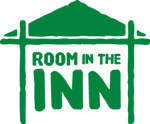 In January 2014, Philadelphia United Methodist Church began serving as a host site for the Room In The Inn program organized by the Urban Ministry Center of Charlotte, NC.
Since 1996, the Urban Ministry Center has partnered with colleges and congregations of many faiths to open their facilities to provide shelter and food for homeless people during the winter months, December 1 – March 31. Each site offers a warm, safe place to sleep, serves three meals (dinner, breakfast and bag lunch) and then return guests the following morning to uptown Charlotte. The program offers a unique way for people of faith to become directly involved with individuals who are homeless.
The basic goal is to keep homeless people from freezing on cold winter nights. A greater goal is to provide a more personal relationship to homeless people, at least for a night, and to foster a deeper understanding of the depth and complexity of the issue.
From December 1, 2016, through March 31, 2017, RITI provided a total of 16,834 overnight accommodations to 1,490 different people. PUMC hosted RITI on 11 nights providing a warm place to stay, good food and prayerful fellowship to 83 men over the course of those cold nights. In past years, PUMC served up to eight homeless guests each night when hosting. During the 2017-18 season, PUMC will serve up to 12 guests each night. Urban Ministries follows a carefully formatted intake and registration process that includes giving each person seeking shelter a breath analysis test, and verification of state-issued identification, or verified waiver.
What We Do and How You Can Help
PUMC hosts Room in the Inn every other Thursday evening from December through March. On RITI nights at PUMC, a minimum of 16 volunteer roles need to be filled by caring individuals who are willing to pull together using their time, talent, resources, prayers and hearts of love to minister to brothers in Christ who find themselves homeless.Volunteers are needed in various roles to help ensure the success of this ministry. You can serve by volunteering to:
Set up beds and tables in the fellowship hall in preparation for the arrival of our guests
Pick up our guests from the Urban Ministries Center in Charlotte and transport them to PUMC
Greet and meet our RITI guests and serve them a hot meal provided by volunteers
Help prepare the meals for our guests
Transport our guests to the YMCA in Baxter Village for showers
Drive our guests back to the Urban Ministries Center in Charlotte the following morning
Help with laundry
Provide needed basic supplies for our guests, or help put together hygiene kits
Serve as Overnight Host
Guests are greeted by PUMC members in the Fellowship Hall to share a meal and time in prayer and conversation with them. The YMCA in Baxter has partnered with us to provide use of their showers to our guests, which is available after dinner. After a good night's rest, more volunteers prepare and serve breakfast in the morning before our guests are returned to the Urban Ministries Center in uptown Charlotte.
In the 2016-2017 year, over 70 PUMC volunteers helped in some way: preparing beds and hygiene kits, setting tables, driving, making dinner/breakfast and serving dinner/breakfast, chaperoning overnight, making sandwiches for lunch or simply sharing a meal or time in prayer and conversation with our guests. Several others donated needed items like socks, toiletries, hats and blankets.
One grateful RITI guest shared the following:
"For moments each night, if I am fortunate, I sleep not as homeless in the street, but with warmth and friendship, thanks to Room In The Inn. Somewhere during the evenings of friendly faces, piping hot showers, videos and jokes, laughs and sharing a smoke break, I was transformed from homeless to someone with a misfortune.  I no longer view the world from ground level, where each may look down on me. I view the world from ground zero, where each may view my launch. I thank you, all who volunteer for this program. You have given me fortitude, I am sure that I am not alone in this."
To learn more, or to volunteer contact PUMC Room in the Inn volunteer leader Jessica Inman (jessica.m.inman@gmail.com).